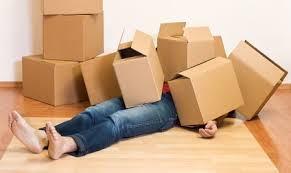 Moving is by no means an easy job. There are a million and one things you need to keep track of. Whether you are looking for a place with lower rent or whether you need to shift because of a job transfer, there are certain key things to do when planning a move.
One of the biggest challenges when moving is choosing a mover. If you are a do-it-yourself kind of person, rent a moving truck and start the move on your own. However, if you are short on time, the best option is to line up some professional movers so you don't need to go through the hassle of packing and carrying your own boxes and bags.
Make sure the mover you hire is reliable. Don't hesitate to look around and compare reviews.
Update your forwarding address
Make sure your neighbours and the local post office know you're moving away so they can forward your mail to your new address. Just to be safe, keep checking with your close neighbour every two weeks after you have moved to see if there's any new mail. This way, you can keep your personal correspondence from being opened by strangers.
Inform important parties about the address change
Make sure you leave your new address with your bank, insurance and credit card companies, and any newspapers and magazines you subscribe to. This will make it easier for them to contact you in the future.
Update school and medical records
Inform your or your children's educational institution about the change in address. Make sure the school documents are updated with your new address. If you plan to consult a new healthcare provider in the future, have your existing medical records sent to them. Ask your new neighbours for good referrals in the nearby area.
Keep children and pets occupied
Children and pets are caught up in all the excitement of moving and can get underfoot unless you make prior arrangements. Ask a close neighbour to keep an eye on energetic kids and pets for the day so you can supervise the moving process in peace.
Over the time you've lived in your current location, it's likely you have borrowed or rented quite a few items from your neighbours or local rental companies. Make sure to return all these items. For instance, if you have any library books lying around, now is the best time to return them.
Be prepared for the first night
Make sure you're fully prepared for the first night in your new house. Pack a small suitcase or bag with essentials like a change of clothing, pajamas, bed linen, light bulbs, candles, matches, towels, etc. This way, you can ensure a comfortable first night for yourself and your family.
By taking care of all the above things well on time, you can ensure a smooth and hassle-free moving process. If you are in a situation where you need to move, and sell your house then make sure to give us a call. We can buy your house quickly and help you avoid the hassle of listing it. Give us a call today at 855-66A-TEAM, or enter your information here to get a fair offer for your house fast. We look forward to helping you as we have helped many others that have faced similar situations.