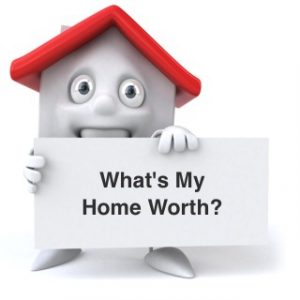 Whether you are looking to sell your house or not, you can be better prepared to make a decision on what you want to do, when you have a better sense of your property value. Let's break down how to find out how much your house is worth so you can be better equip to negotiate your home value.
Start Online With A Few Websites
In this day and age, the internet is becoming a reliable platform for any business or information database to expand. Property valuation websites like Zillow, Trulia, Realtor.com, Redfin, and others can give you an estimate of your property within seconds. All you have to do it type in your address and it can come up with an estimated sum for you. Just remember, websites are only as reliable as the information given to them. To be completely accurate, they need to be up to date with the changes in real estate. Because those websites are rarely updated in real time, the information they provide could be inaccurate.
Look at the Property Tax Records
Taking a look at the most recent property tax assessment can give you a general estimation of your property's value. Commonly it will be between 80 – 90 percent of the actual value.  Your property tax is a projected estimate of the assessed value, and the assessed value is a certain percentage of the Fair Market Value. Of course, these are not as reliable as professional help or a property analysis, but they give you a rough idea of what you can expect.
Brokers Price Opinion
Through a Brokers Price Opinion (BPO), a real estate agent or a real estate broker calculates and finds out the cost of your home. Usually, people request a BPO, which may require a small fee, so that they have an estimate of what their property value is. A good BPO can investigate the following points which add to or subtract from the property value:
Characteristics of the property, like rooms, type, size, parking etc.
How well the property fits in the neighborhood
Does the property comply with the zoning environments?
Characteristics the neighborhood has.
Value of the other properties around.
The labor and time needed to clean and maintain the concerned property.
Once they have conducted a thorough investigation using the above mentioned methods, it becomes easier for you to understand your property worth.
Get a Comparative Market Analysis
A Comparative Market Analysis (CMA) evaluates similar recently sold homes that are near your property. The report, which is normally prepared by Real Estate Agents, contain an analysis of various factors which contribute to the estimated price of your home.
Get a Professional Appraisal
Hiring a professional appraiser for your property is the most definite way to get an exact and error free estimation of what your house is worth. Property appraisal professionals have the connections to real estate agents, which means that they can get in touch with them to give you an accurate sum. A real estate professional will have access to databases, which are up to date with the latest changes in the business. Their information can guide you better.
Any evaluation of your house's worth, is an estimate. Whether you do it yourself or have a professional help you, the end result will be an estimated sum. Your property value is viable to change over time, depending on many things. The state of your neighborhood could rise or fall, affecting the estimated value of your home. Even neighborhoods next to yours have an effect on your overall home value.
The final determination of value is essentially how much a buyer is willing to pay. If you are considering selling, and would like to get an obligation free estimate of your property, contact A Team Marketing today. We will give you a fair cash offer for your house and close on your timeline. We buy "as is" so there's no need to make any repairs. Find out how A Team Marketing, LLC can help you today give us a call today at 855-66A-TEAM, or enter your information to get a fair offer for your house fast.